Comparison of the Best RTX 2080 SUPER Graphics Cards
Here is a comparison of the best RTX 2080 SUPER cards available on the market. We know you have been dying to know which models of the RTX 2080 SUPER perform and look the best and we are here to bring you that data. We are comparing top end models from three major aftermarket manufacturers you know well EVGA, GIGABYTE, and MSI. Now let's get right into it!
EVGA RTX 2080 SUPER FTW3 ULTRA HYBRID - P/N: 08G-P4-3288-KR
To the right you will see the EVGA RTX 2080 SUPER FTW3 ULTRA HYBRID. It is EVGA's top of the line hybrid water cooled RTX 2080 SUPER GPU capable of gaming at the highest level. It looks sleek, with its silver and black design and it performs even better. The GeForce RTX graphics card utilizes the new Turing GPU bringing untold computational power to consumers. This card boasts six times faster performance that the previous generation, with two excellent new features: real-time ray tracing in games and powerful AI enhanced graphics. Not to mention the ice cold cooling provided by the EVGA Hybrid Cooling system. It provides an all in one, completely self-contained cooling loop that requires no filling, no custom tubing or maintenance. With its custom cooling and one of the best GPU's available right now you can hardly do better that the EVGA RTX 2080 SUPER FTW3 Ultra Hybrid.
GIGABYTE RTX 2080 SUPER AORUS WATERFORCE - P/N: GV-N208SAORUS W-8GC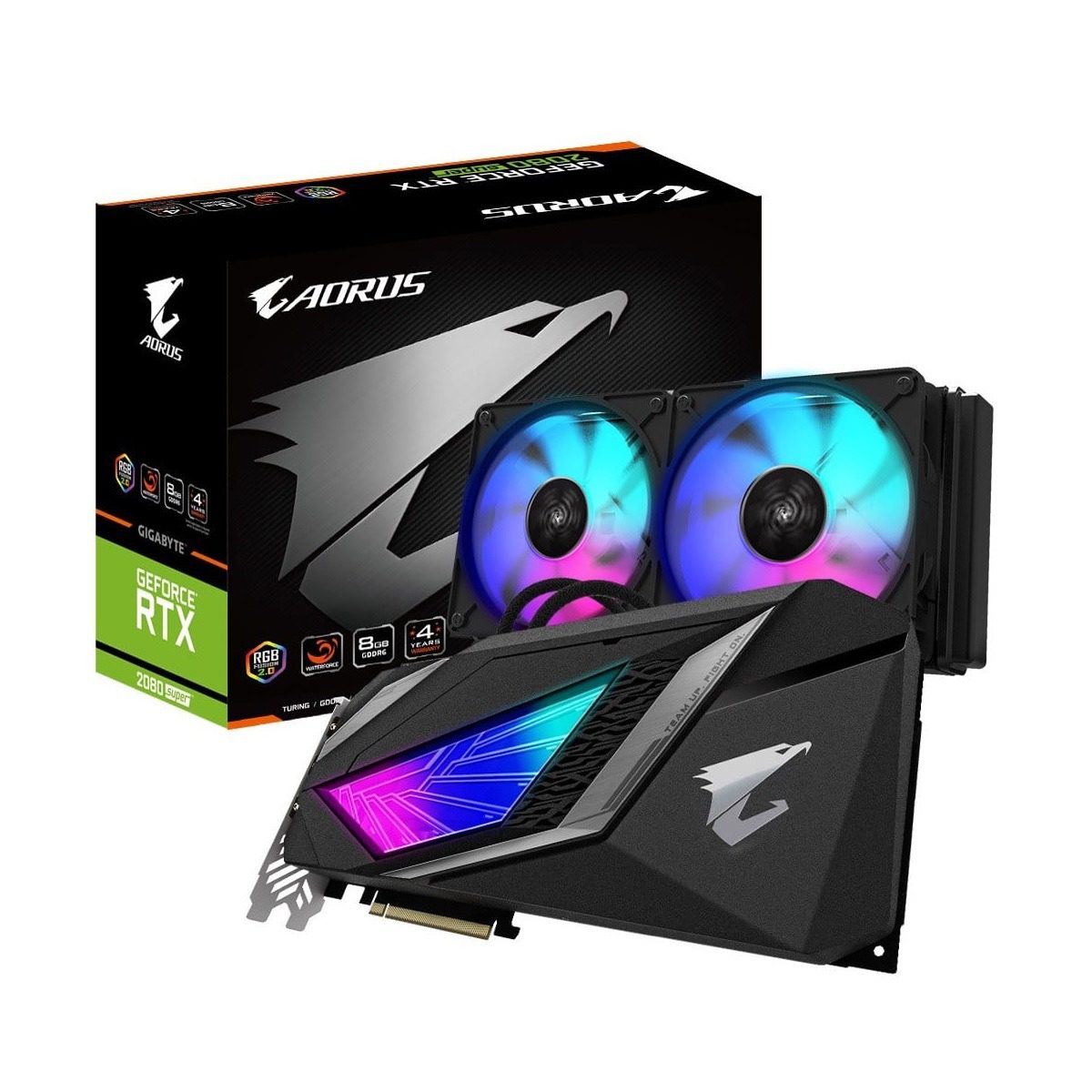 The GIGABYTE RTX 2080 SUPER AORUS WATERFORCE might just be better though. This card also uses the newest RTX 2080 SUPER GPU so it also has access to real-time ray tracing and AI enhanced graphics. However they use there own cooling loop system, AORUS provides an all-around cooling solution for all its important components, ensuring a stable overclock and longer card life span. Additionally this card boasts the highest clock speed of the three, coming in at 1860 MHz compared to the 1845MHz the other two have. One more cool unique fixture of this model is it has two more HDMI outputs taking it to seven total video outputs. Also this card takes inspiration for its design from the wings of the powerful falcon. It has a multi-layered design featuring striking contours, resembling a falcon's wings. The coolest feature though has got to be the AORUS RGB FUSION 2.0 software that allows for some crazy cool lighting affects. The software allows for over 16.7 million customizable colors and effects to make your rig look amazing!
MSI RTX 2080 SUPER SEA HAWK X - P/N: RTX 2080 SUPER SEA HAWK X
We just received these cards for the first time and we are extremely excited to see how you guys like them. Once again powered by the RTX 2080 SUPER GPU this card also boasts AI enhanced graphics, and real-time ray tracing. This card also uses its own self contained cooling loop, with its own silent 120MM TORX Fan and an aluminum heat radiator that is easy to install, reduces airflow demand and looks excellent. The MSI RTX 2080 SUPER SEA HAWK X uses NVIDIA G-SYNC for the fastest, smoothest and best game play you can possibly get by eliminating any lag. Additionally they have their own excellent MSI custom software called Dragon Center. It is a consolidation of all their software into one unified suite, which will eventually allow you to control your MSI Desktop, Graphics card, and Motherboard all from one place if your build is all MSI.
These cards are the best you can get when talking about any RTX 2080 SUPER chip set with its own cooling loop. They all perform excellently and provide top of the line graphics which can only be beat by an RTX 2080 Ti. Picking the best card at this level is hard as you are really parsing hairs but our favorite card has got to be the GIGABYTE AORUS. Their AORUS software and RGB lighting takes this card to the next level, as it performs slightly better than the others and looks amazing while doing so. Please let us know which one you'd choose in the comment section below!