Lease Your GPU
Interested in leasing-to-own your GPU?
You've come to the right place!
Learn more about leasing with CEG
Shoot For the Stars With Next Gen Performance
Sign Up to Our Notify List!
RTX 40 and RX 7000 series now in stock! Stay in the know for our next restock.
Join Our Affiliate Program!
Spread the love, earn rewards! Join our Affiliate Program and start referring friends today. It's a win-win!
Infinite Upgrades
®
Elite gaming is now accessible at all times. When you
lease or purchase with Cutting Edge Gamer, you can
upgrade your gear at anytime.
Easy Payments | 12 Month Term | Infinite Upgrades®
Extreme Performance
We offer the upper echelon of high end video cards for lease, based on AMD Radeon and NVIDIA GeForce GPUs. You need performance – not compromises.
Easy Monthly Payments
Never suffer the sticker shock of high end video card prices again. Your subscription is a 12-month term at a simple low monthly rate, which is automatically charged to your payment card on file.
Infinite Upgrades®
Our signature Infinite Upgrades® Program allows you to upgrade to the next latest cards for free, at any time. Select your upgrade, sign a new 12-month contract and receive your new card!
Buy Out Option
We even offer a Buy Out Option, equal to one month's payment, to purchase the card outright at the end of the lease term!
Upgrade Your Gear.  Get Rewarded.
Buying your gaming components just got even better.  Our Infinite Upgrades® Program rewards you when you buy the same product from us in the first 12 months (learn more here).
Get Credit for Your Old Gear
Buy gear from us. Buy newer gear (same category) from us within a year, and you will get a prorated credit when you return the old gear.  Use that credit towards your next purchase or lease payment!
Easy Returns
Free shipping on all returns back to us.  We provide the label, you ship it back to us.  It's that simple.
Performance to Brag About
Increase your rig's performance today.  Upgrade when needed to continue your dominance.
Great Support
With knowledgeable associates on hand, we can help you with any issues you may have.  Call to speak with a real person immediately (during business hours) or send us an email.
Fast & Free Shipping
We typically ship orders within 1-3 business days and always provide FREE ground shipping.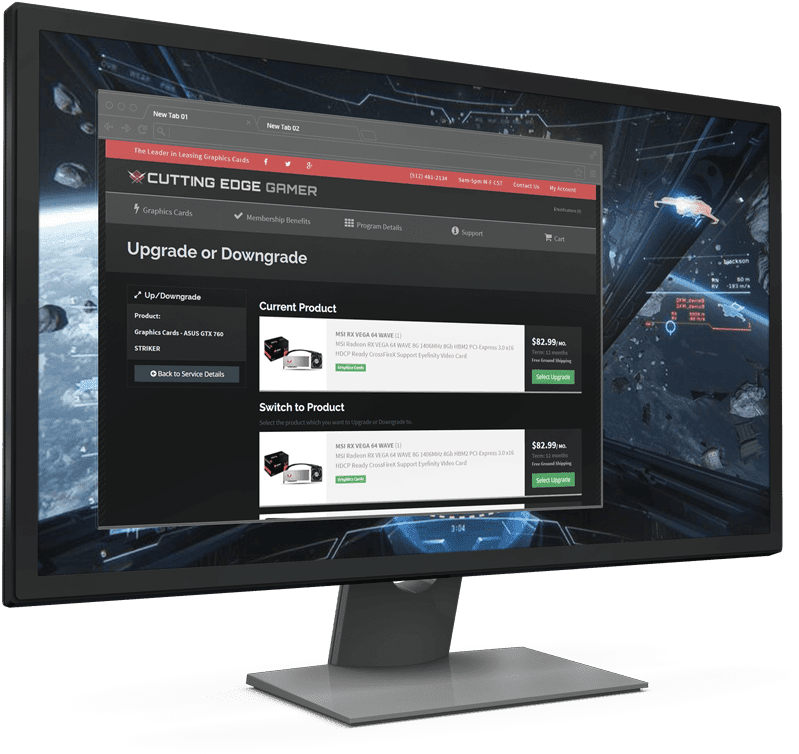 HOW IT WORKS
Infinite Upgrades® For All!
When You Lease
Our Infinite Upgrades® Program allows you to upgrade to the next latest and greatest graphics card for free, at any time, as many times as you like. No hidden fees. Upgrade up, down, left, right – it's up to you!
Place your upgrade order and agree to a new 12 month term. We then ship the upgrade card to you first and provide a return label so that you can ship the old card back to us free-of-charge.
LEARN MORE
When You Buy
Think of our Infinite Upgrades® Program as the cure to your buyer's remorse and the weapon of domination.
You purchase a new motherboard from us today for example.
Then within a year when that new version hits the market, "upgrade" to it.  Buy the latest and return the old.  We provide a return label too, so that you can return it free-of-charge.
We will then provide a prorated credit based on the number of months left in the year since making the first purchase.  Use the credit on your next purchase or lease payment!
LEARN MORE
What some of our members are saying ...
J. Armbruster

Moores Hill, IN

"Absolutely great company for leasing graphics cards. I've had two cards from them; an EVGA RTX 2080 XC Gaming and an EVGA RTX 3080 Ti FTW3. Both work great, and I've ordered my third card from them, which is a MSI Gaming Trio Classic RX 7900 XTX. They very reasonable prices and a solid RMA process if you ever happen to have a problem."
J. Fike

Vandergrift, PA

"I've been using Cutting Edge Gamer since the Nvidia GTX 1xxx series and I'll continue using them because of their great customer service and ability to get GPU's that you otherwise can't find anywhere else."
E. Sommerfield

Bluffton, IN

"Ordered my first card through them this summer, a 6900XT. All communication throughout the entire process were clear and concise. Shipped and arrived in a timely manner. Will lease through them again for sure."
A. Griffin

Jasper, TN

"Just wanted to reach out and say thank you for your services. While the total cost may be more than buying it retail with CEG I can rest at ease knowing that if I order something it comes with-in a few days. That and the support is and has always been great."
D. Pereyaslov

Narvon, PA

"I have used CEG for a few years now. The fact that I could actually have a nice graphics card without pulling an arm and no credit check! I thought I'll give this a try. Let me tell you how I was never disappointed by CEG. They always delivered on their promise. I have bought out every card from them... An excellent company to do business with. Highly recommend their service!"
M. Bean

Lafayette, LA

"Professional small business with employees to match. If I ever had any questions, they were immediately answered via phone, email, or messenger. I had an issue with a graphics card artifacting, and they sent out a better one to replace it. These guys are awesome. Sure it's always cheaper to save and buy later, but sometimes everywhere else is out of stock and they will handle all RMA for you and send out replacements as needed. Overall great company and personnel."
R. Gareau

Zanesville, OH

"This company apparently has the crazy notion of fast service that is geared towards customer satisfaction. I have had 2 cards with them... and every time I order a new one, I get it fast. They have always been in direct communication with me on every question and product. I will never go back to store bought video cards again. The notion of always having the best is now my new normal."
R. Scheschuk

New Hyde Park, NY

"I'm bad at saving so this is a great service for me. Typical leasing cost with Fast shipping benefits! They do their best to make sure you're gaming ASAP! Card upgrades/downgrades are very easy. I have only had great experiences, personally."
R. Maynard

Louisa, KY

"Excellent customer service and great service overall to anyone who loves computer parts. Especially the expensive parts. It does cost a bit more than just buying a graphics card outright but for me it's worth it."
P. Beltran

Buckeye, AZ

"Great legit company for all your GPU lease to own needs! I will keep using their services as long as I'm in the PC world."
J. Taros

Perris, CA

"Great service been with them from the beginning and will continue to use them. They have great customer service and the CEO is a very nice guy that will always take care of you."
  Signup for Monthly Deals & New Product Updates