ASUS RTX 2080 Ti ROG STRIX Overclocked Edition vs. EVGA RTX 2080 Ti FTW3 ULTRA HYBRID
Hello, to loyal CEG customers and new visitors finding our site for the first time, alike. We have decided to expand the domain of our site from our lease to own program for graphics cards to an even more well rounded one. Along with adding a curated selection of high-end PC components, hand picked by our experienced staff, we are now attempting to help keep our community informed as best we can. Without any further ado here is our first article, where in we will compare the ASUS RTX 2080 Ti ROG STRIX Overclocked Edition and the EVGA RTX 2080 Ti FTW3 ULTRA HYBRID. We hope you will find it as helpful and informative as we found it fun to write!
ASUS RTX 2080 Ti ROG STRIX Overclocked Edition
Take a look at that gorgeous beast, as ASUS ROG's flagship card the ASUS RTX 2080 Ti Strix OC(ROG-STRIX-RTX2080TI-O11G-GAMING) is loaded with some of the best features you could hope to find. It has dual-BIOS functionality, sweet RGB lighting, newly designed fans and comes factory over clocked. Running at 1650 Mhz, which can be boosted to 1665 Mhz using ASUS's GPU Tweak II tool, this card runs 120 Mhz faster that Nvidia's reference design.
The dual-Bios adds some great functionality. And while not super uniquely designed, it looks almost identical to the 2080 Strix OC, the lighting on these cards is great for custom builds and can put the final touches on your new rig. It comes with a driver CD, instruction guide, and two Velcro ties in the box, which is also about identical to the 2080 Strix OC box.
Finally they also redesigned the fans, increasing airflow by 27% and hopefully fixing previous issues. If you are not familiar with the ASUS cards of late they used to have big issues with fan blades breaking due to fatigue. This new design takes that into account, but still incorporates an ugly visible multi-color fan cable.  Overall we have high hopes for this card and its potential going forward.
EVGA RTX 2080 Ti FTW3 ULTRA HYBRID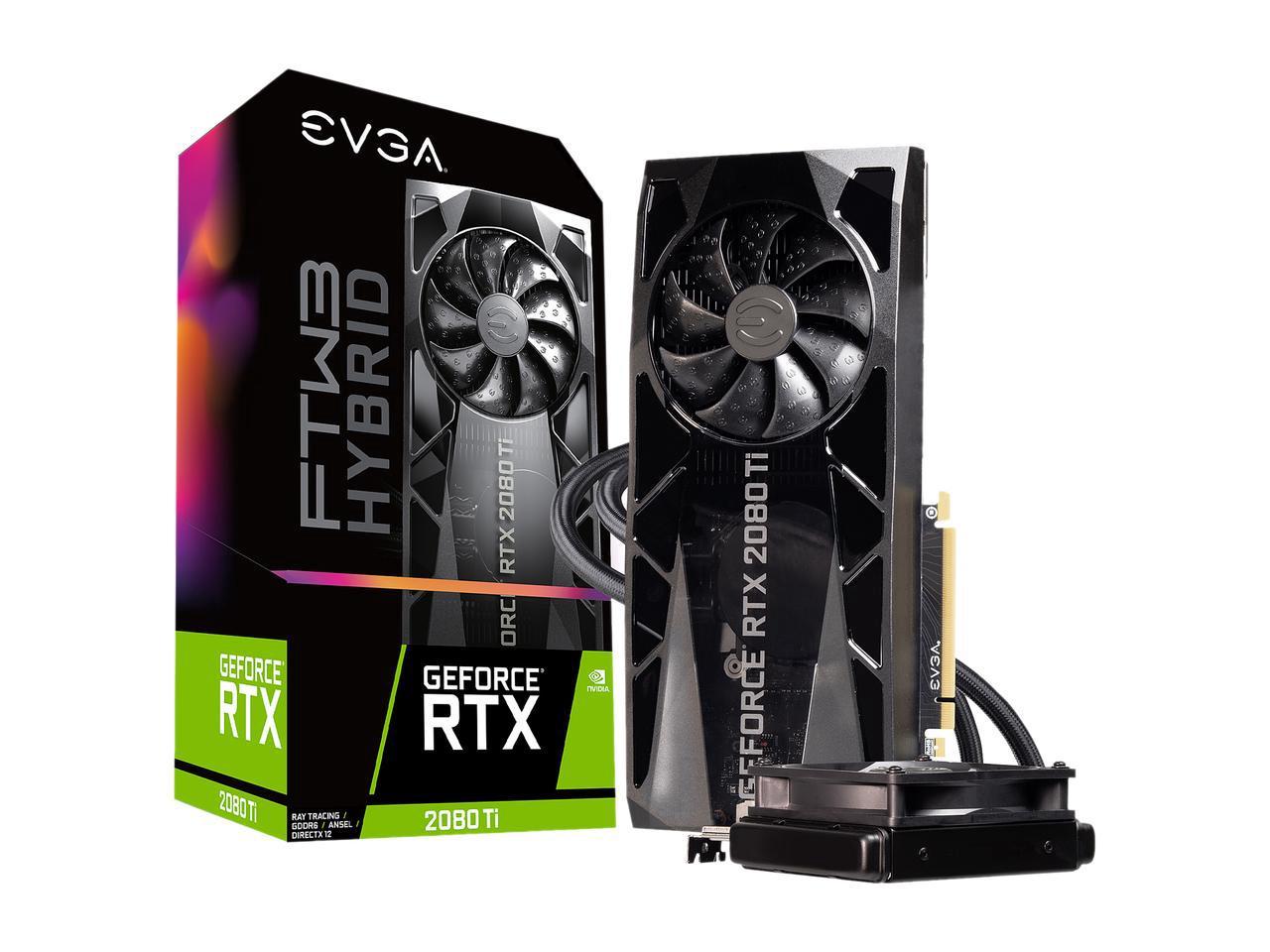 NVIDIA has now created the next big ting in gaming. Ray-tracing is here and it is here to stay as it allows for better 3D rendering. And it is right on time, with the slowdown of silicon fabrication technology innovations and desiring a new leap instead of just packing in more transistors (looking at you Volta) they have created RTX cards and new technology to go with it. This technology is now consumer ready and I can say it is worth the hefty price tag if you can get it.
RTX technology incorporates both classic CUDA cores with the newly designed RTX cores which allow for rendering real time ray traced objects into rasterized 3D scenes in the best way possible. With this technology available now this EVGA RTX 2080 Ti FTW3 Ultra Hybrid can bring RTX to you and see gorgeous game play as it was designed to be seen.
This card is excellent and performs that way under pressure hitting over 220 FPS with ease and staying cool while doing it. Try BFV and you can see the ray tracing working hard. It comes in a simple box with an instruction Guide(s) a DVI to HDMI Adapter and four screws & washers.
Pushing the frontiers of gaming visualization RTX is awesome, it looks amazing in 4K and eventually will allow for rendering full scenes with ray tracing. Grab one today and you will not be disappointed.
ASUS RTX 2080 Ti ROG STRIX Overclocked Edition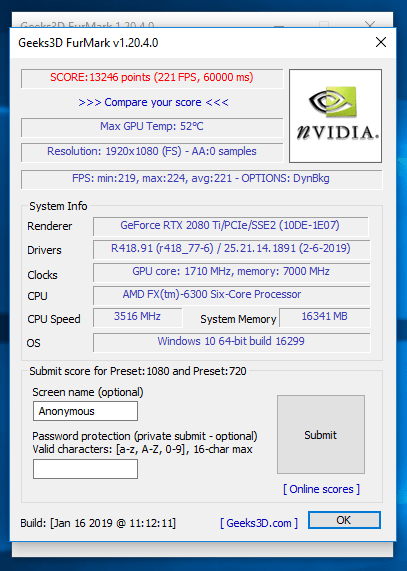 EVGA RTX 2080 Ti FTW3 ULTRA HYBRID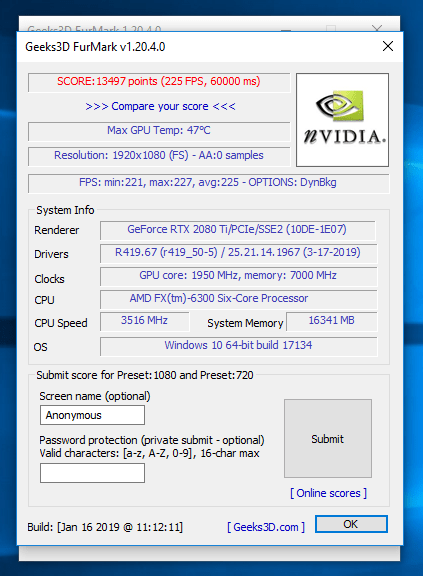 Comparing two top tier cards of this magnitude is never easy, and declaring one better than the other is near impossible, but don't you worry that's what we are here for. After considering the branding, style, special features and Furmarks of these cards we declare the ASUS ROG RTX 2080 Ti Strix OC to be the best in series. As ASUS fans we can say they struck this one out of the park, it boasts a clock speed of 1710MHz and just looks gorgeous. We would highly recommend this card if you are trying to get the best of the best gear, and it is available now(when in stock) through our lease to own program at only $165.99/month, and remember it only takes 13 payment at the listed lease price to buy out your card.
Please let us know if you would like to be put on out notify list for any cards, or added to our newsletter email list!