NBA 2K Players Tournament Full Bracket: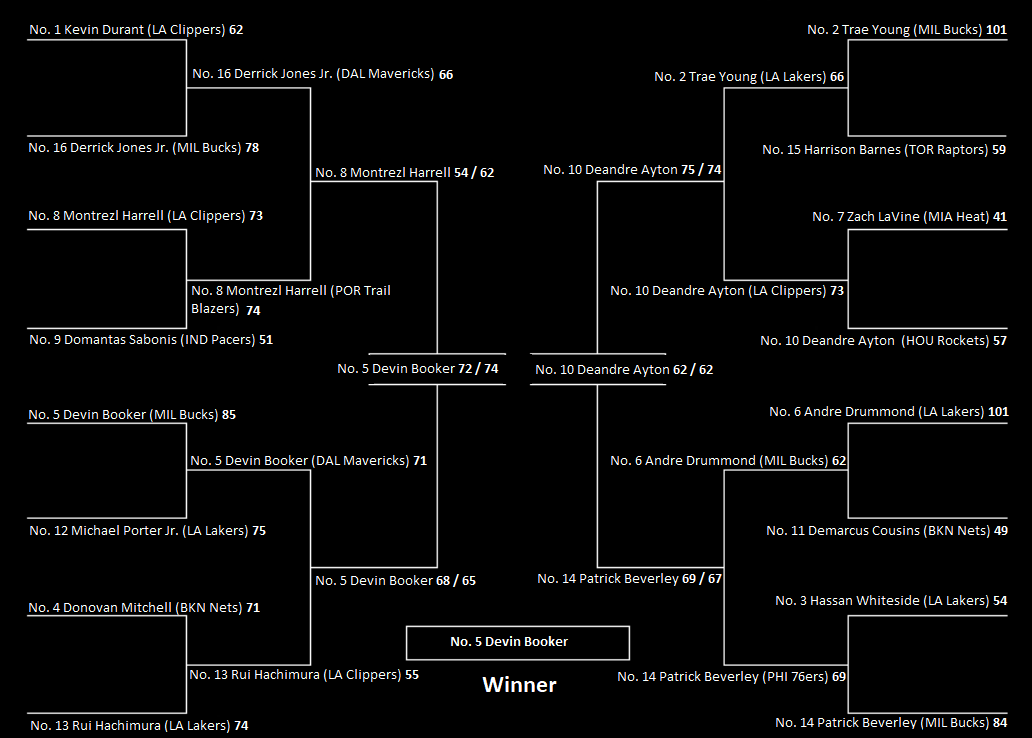 Above are all the player matchups from the tournament, you can see the players seeding, choice of team, and the games final scores.
This NBA 2k tournament is an exciting new eSports tournament put on by the NBA, featuring NBA stars playing 2K competitively against each other. The rules are as follows, it is a single elimination tournament for rounds one and two. The players were seeded by their 2K player rating, with Durant at No. 1 and Derrick Jones Jr at No. 16. Players select eight teams at the beginning of the tournament and cannot use the same team twice. The Semifinals and Finals are decided by playing best-of-three. Finally the overall winner gets to donate $100,000 of the NBA's cash to the charity of their choice for coronavirus relief.
Finals: No. 5 Devin Booker vs No. 10 Deandre Ayton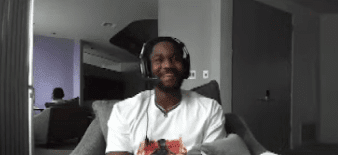 Game 1: No. 5 Devin Booker (HOU Rockets) vs No. 10 Deandre Ayton (LA Lakers)
Score at the end of 1st Quarter: 14-14 Tied
Score at halftime: 29-33 Rockets Up
End of 3rd Quarter: 47-52 Rockets Up
Final score: 72-62 Booker wins at Rockets
This first one was a very competitive game, but Booker came out on top!
Game 2: No. 5 Devin Booker (DEN Nuggets) vs No. 10 Deandre Ayton (MIL Bucks)
Score at the end of 1st Quarter: 19-14 Nuggets Up
Score at halftime: 41-35 Nuggets Up
End of 3rd Quarter: 55-45 Nuggets Up
Final score: 74-62 Booker wins as Nuggets
Number one takeaway from these games has been that Booker is the by far the better s***talker and player. He has Deandre Ayton's number by halftime and is just entirely demolishing him by the beginning of the fourth quarter. It is so bad that even though Ayton is clearly concentrating hard he seems out of his league. Ayton says "I can't even get mad cause I don't even know this game" and Booker is not having it.  He just asks "What are you saying its over with already? You want me to cut it off? Want me to cut it off?" to which Ayton meekly responds "No". At this point its 61-47 Nuggets with 4:17 left to play and the game is already over. Booker continues to talk trash throughout as expected after all he went undefeated throughout the entire tournament.
Overall the tournament was a good fun, a great way to provide entertainment for fans of the NBA and donate to a good cause all at once. Booker chose to split his winnings between #FirstRespondersFirst and Arizona Food Bank Network. Who do you think will win next year? Let us know if the comment section below!